What is the Sutton Information Hub (SIH)?
The SIH is a directory of nearly 500 services, ranging from leisure and social activities, through to support with housing and the cost of living. It is a space for you to browse, rather than a place to necessarily call for support. A space with lots of information at hand!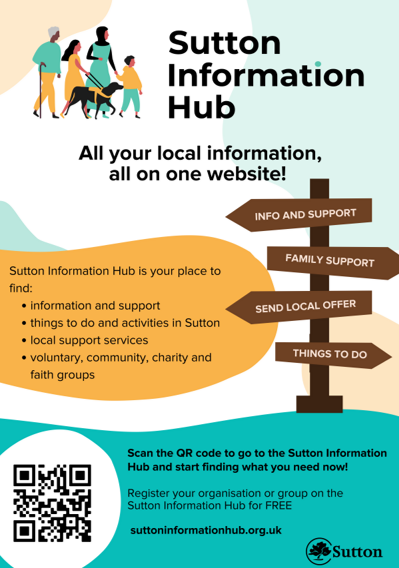 You can browse by category or use the 'search' function to find what you are looking for. You can also filter down searches by location, or using advanced filters to provide more personalised search results.
The SIH brings together a range of information pages including:
Special Educational Needs and Disabilities (SEND) local offers
Family Hubs
Holiday and Activities Food (HAF) Programme
Care Leavers Local Offer
Learning Disability Charter
Family Information Service
This hub aims to provide specific information to support everyone, residents and professionals, but may also be useful for specific groups of residents from children to the elderly. The SIH is continually being updated, but if you find something is missing, please do let us know.